Send Inquiry
Gang Drilling Machine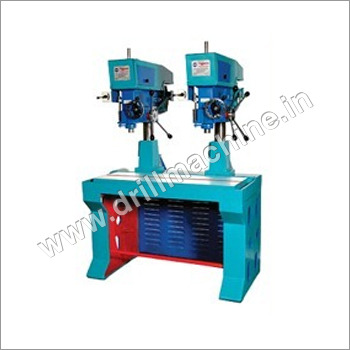 Gang Drilling Machine
Product Code : SEW G-25x2 - 25mm
Brand Name : SIDDHAPURA ENGINEERING
SEW/G-25X2 (Gang & Bench Type Pillar Drilling Machine With Two Head).
The Company:
SIDDHAPURA ENGINEERING WORKS, it's a venture of SIDDHAPURA GROUP, It's has come in to existence for last 34 years. With a vast experience of 34 years in the field of machine tools engineering and manufacture of Pillar and Radial drilling machines. It's main assents is rigid quality inspection methods combined with skilled workmanship led by a team of technically qualified and experienced personnel and dedicated personal attention.
SIDDHAPURA ENGINEERING WORKS aims at creation of wide industry platform in manufacture of drilling machine in wide ranges in mutual benefit between supplier and buyers besides maintaining services, help and close links.
Some important features:
Important parts are made from close graded casting.
Main Spindle made from EN steel.
Main Quill and spindle are hardened and grounded and spindle tapper bore is also internal grinded.
Main spindle run out of tolerance as per IS:2199
Drill Head are made from best quality martial and boring on imported boring machine of Japan.
Precision anti-friction bearing for all rotating members.
All the

main parts are grounded Finish.
SEW/G-25X2
| | |
| --- | --- |
| Description | Capacity and Size |
| Drilling Capacity In Steel | 25mm |
| Drilling Capacity In MS | 30mm |
| Column Diameter | 88mm |
| Distance Between Two Units | 300mm |
| Center Between Two Units | 600mm |
| Center Of Spindle To Column | 250mm |
| Max. & Min. Distance From Spindle To Table | 530mm and 190mm |
| Taper In Spindle (Moser Taper) | MT-3 |
| Spindle Travel Maximum | 185mm |
| Range Of Spindle Speed | 73 TO 1800 RPM |
| Number Of Spindle Speed. | 8 Speed |
| Table Size | 610 X 1200mm |
| Working Surface Of Table | 360 X 1070mm |
| Number Of T Slot In Table With Size | One / 16mm |
| V-belt Section | B-52 |
| Electrical Motor | 1 HP, 50 Cycle, 1440 RPM (LUBI BRAND) |
Standard Equipments:
Electric Motor, R and F Switch, V-Belt, Drift key and motor pulley
Optional Equipments:
Coolant Pump With tank and fitting, Lamp with fitting.